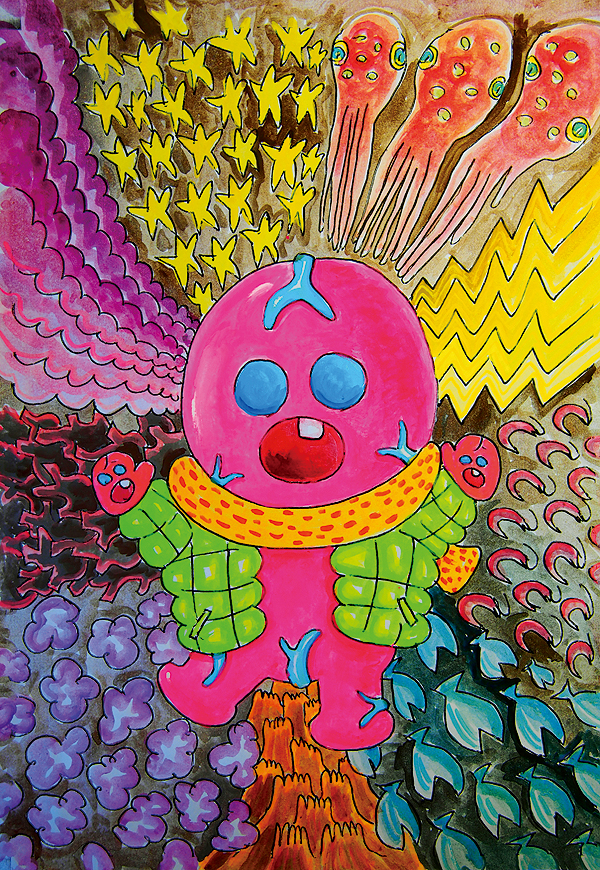 CUBIC GLOVE series Vers. YUKINORI DEHARA "Mentakun"
The third product of "CUBIC GLOVE series" is a collaboration with "Mentakun" which is created by Yukinori Dehara (popular figureillustrator).

It answers to many customer's voice of "want size for adult !".
We started 3 size deployment of "toddler 2+", "kids 6+", and "adult 14+" from the third product.

How Cubic Glove series "Mentakun" was born.
NN buyer Takayanagi helped Dehara's exhibition from ten and more years before, and was drinking beer together till the morning.
Although Takayanagi wished to make goods together some day, it realized one day.
He got to know that a child was born to Dehara who met after a long time. He sent CUBIC GLOVE series "HINOMARU-FUJISAN" and "REDOGRE-BLUEOGRE" to Dehara. The gloves were very pleasing to 1-year-old son. When Takayanagi knew it, he thought " if there is a glove of Dehara's character, he would be more pleased".
"CUBIC GLOVE Mentakun " project was started. The glove maker Fukushin Co., Ltd. made many samples, and deployment size and the design were decided.

Dehara painted an original illustration to the package.
Also there is an original comic at the bottom of package!
Mentakun profile card is attached as a privilege of quantity limitation.
October 24, 2013 Rollout is carried out by DEHRA x UAMOU "DEHAMOU exhibition", and sale by subscription is started.
Details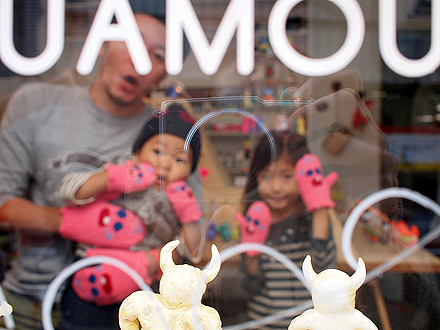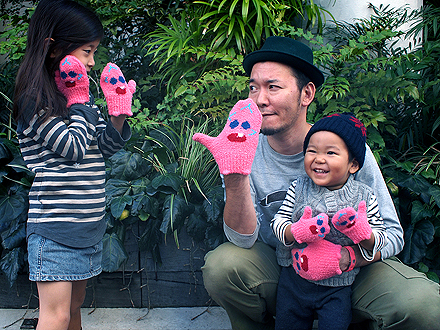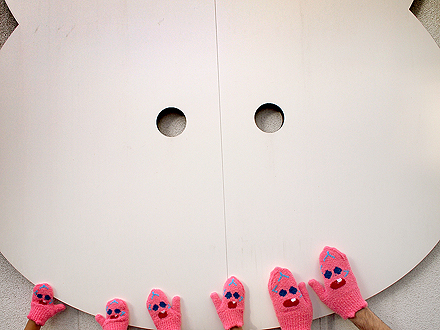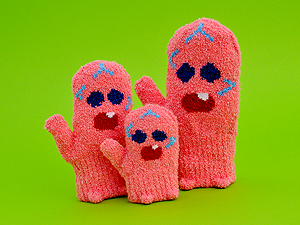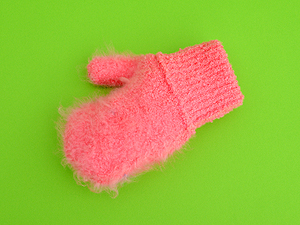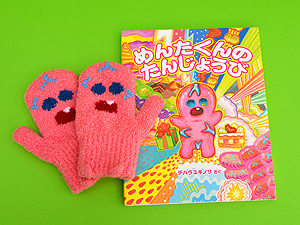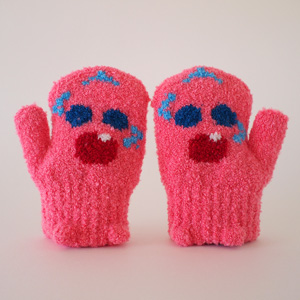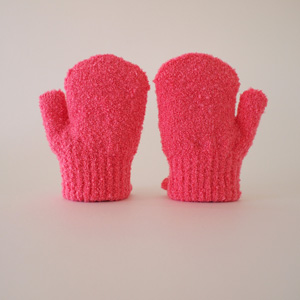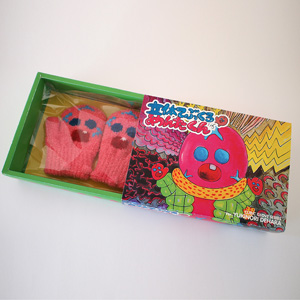 TODDLER
price : 1,800 yen
age : 2+
size : w 90 × h 110 mm
box size : w140 × h 45 × d 196 mm
quality : acrylics 80% / nyron 19% / polyurethane 1%
stock number : SGCGL 003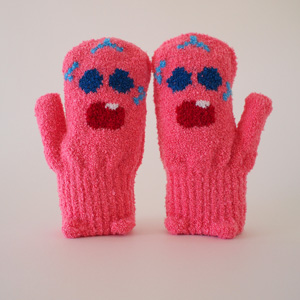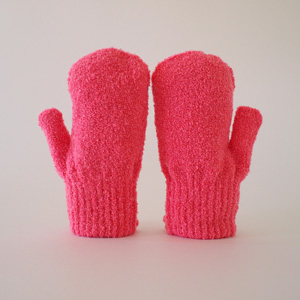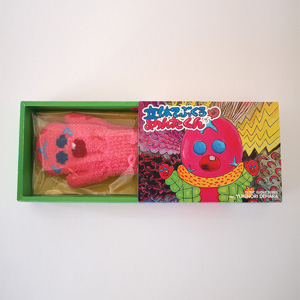 KIDS
price : 1,800 yen
age : 6+
size : w 110 × h 160 mm
box size : w140 × h 45 × d 196 mm
quality : acrylics 80% / nyron 19% / polyurethane 1%
stock number : SGCGL 004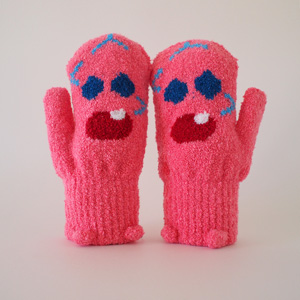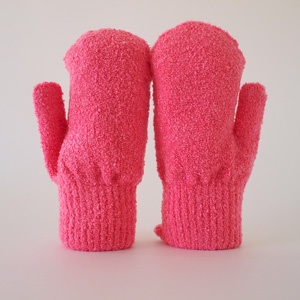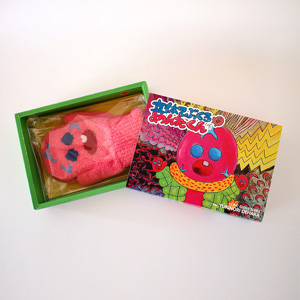 ADULT
price : 2,000 yen
age : 14+
size : w 125 × h 190 mm
box size : w140 × h 45 × d 196 mm
quality : acrylics 80% / nyron 19% / polyurethane 1%
stock number : SGCGL 005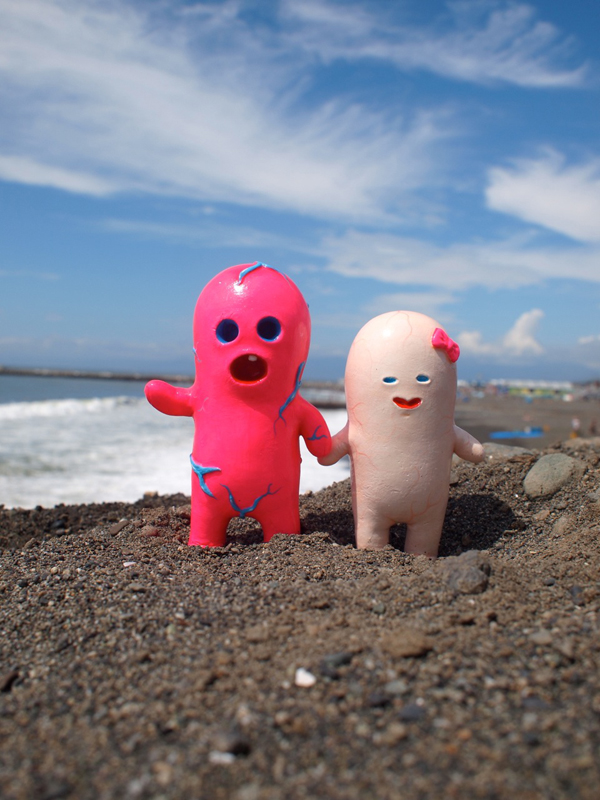 Menta kun
The creature which was born from the gathered leftover in the corner of the box of "mentaiko(seasoned cod roe)".
You should never eat him because he is so hot that your tongue melts.
He continues being troubled why he has been seasoned so hot.
He has the face as the Shibuya-style hot rapper, but he knows only the word 'Me-n'.
He has a girlfriend Shirako chan.
Since 2003 he has been a non-official character of Fukuoka prefecture. (Actually he has never been to Fukuoka.)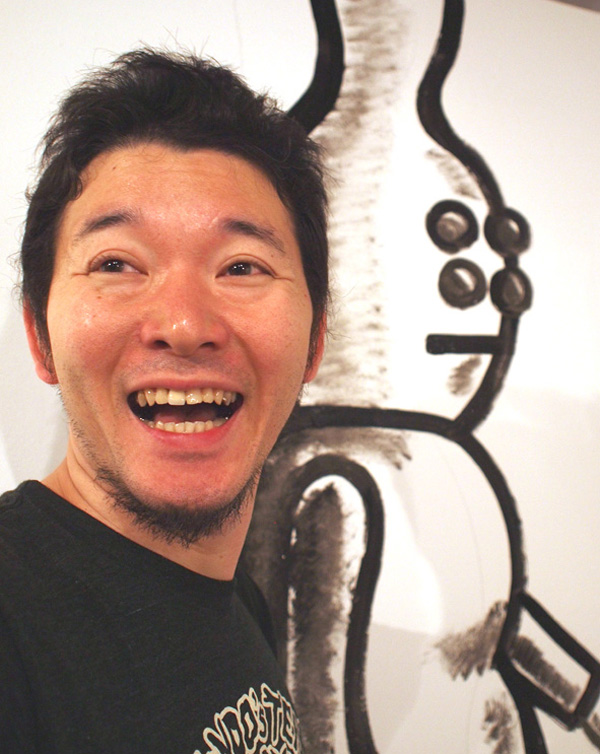 Yukinori Dehara
Born in 1974 in Kochi prefecture, have been grown with bonito and beer.
Figure illustrator, based in Tokyo.
Produces 400 original figures a year, drinks 400 liters beer a year.
Have been involved in advertisement works with Nike, NEC, Tower Records, ASICS Europe. Meanwhile a private exhibition is opened in Taiwan, Hong Kong, NY, LA, Paris, etc. including Tokyo and Kochi at a 4~6 times pace per year as an artist.
http://www.dehara.com/
About CUBIC GLOVE series
" What can an artist do at the factory on the basis of industry ? "
Cubic glove was born by an artist Nobumasa Takahashi and a glove maker FUKUSHIN Co., Ltd. during the regional vitalization project " artist in factory ".

Why the inside of the glove is so cozy ?
URAKIMOU(Raise back) is one of the methods to make the surface of inside hairy.
At Fukushin, the engineers use teasel (kind of pine) to raise back which is an old way to do it.
They make one by one with a lot of love.
In winter, the gloves are very warm and so soft.
Once you experience the touch, you can not forget it.
It is so nice!
Shop
JAPAN
TOYTOYTOY(Takamatsu, Busshozan)
Contact
info@enuenu.com